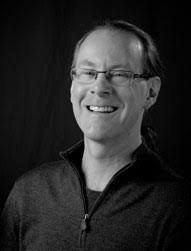 George Fenwick was a free-lance composer, arts administrator, librarian, singer, violinist, and Associate Composer of the Canadian Music Centre. A native Calgarian, he studied composition with Allan Bell and Quenten Doolittle, and received his B.Mus from the University of Calgary.
He wrote works for the concert hall and the stage, which have been performed throughout Canada, in France, Germany, and the USA, and broadcast on CBC Radio. He has also participated in several multidisciplinary projects.
Fenwick received commissions from the UCalgary String Quartet, Kensington Sinfonia, Spiritus Chamber Choir, the Calgary Youth Orchestra, and Land's End Chamber Ensemble. His works have been performed by a variety of performers and ensembles, including Alberta Winds, Canadian Chamber Choir, Mount Royal University's Kantorei, clarinettist Stan Climie, and percussionist Rod Squance.
He composed music for a variety of theatrical presentations, with companies such as the Old Trout Puppet Workshop, Alberta Theatre Projects, and the University of Calgary's School of Creative and Performing Arts.
His score for The Old Trout Puppet Workshop's The Erotic Anguish of Don Juan was nominated for a Betty Mitchell (Calgary) award in 2009, for Outstanding Sound Design or Composition, and an Elizabeth Sterling Haynes Award (Edmonton) in 2010, for Outstanding Score of a Play or Musical.
***
Personal note from John Reid, Prairie Regional Director, Canadian Music Centre.
I am saddened by the passing of George Fenwick, who had been ill for quite some time. I have many fond memories of George, as we worked side by side in the CMC Prairie Region office for many years. When he moved back to Calgary from B.C. about twenty years ago, he dropped by the office one day to say hello. He told me that he and Mindy loved residing in Vancouver and Kitsilano Beach, however they moved to Abbotsford, as George got a full time Children's Librarian position there.  They wanted to move back to his hometown of Calgary and one of the first things he did was to drop into the CMC, due to his love of Canadian music and interest in composition. I began to call on George to volunteer for the CMC from time to time, then to work part time, and eventually to work full time as Coordinator of Office and Library. We had a great time working together, putting on fund raising events, casinos, and organizing the CMC hockey pool! One particular amusing memory was George and I putting on High Tea with Kelly-Marie (Murphy; October 19, 2003); it was, of course, on the face of things, ludicrous for two guys to put on a "high tea" event, but, somehow, we pulled it off in fine style! We had many fine years together, but eventually, George wanted to devote more of his efforts to composition, which he did, and I was very proud that he was eventually accepted as an Associate Composer of the CMC. In true George style, a few weeks ago, he was determined to make sure that his 2020 A/C membership was paid in full, even though he sensed the end was near. George: you were a great guy, we had a lot of fun times together, and I am going to miss you. God bless. John Reid.
*class photo credit: Edmond Agopian